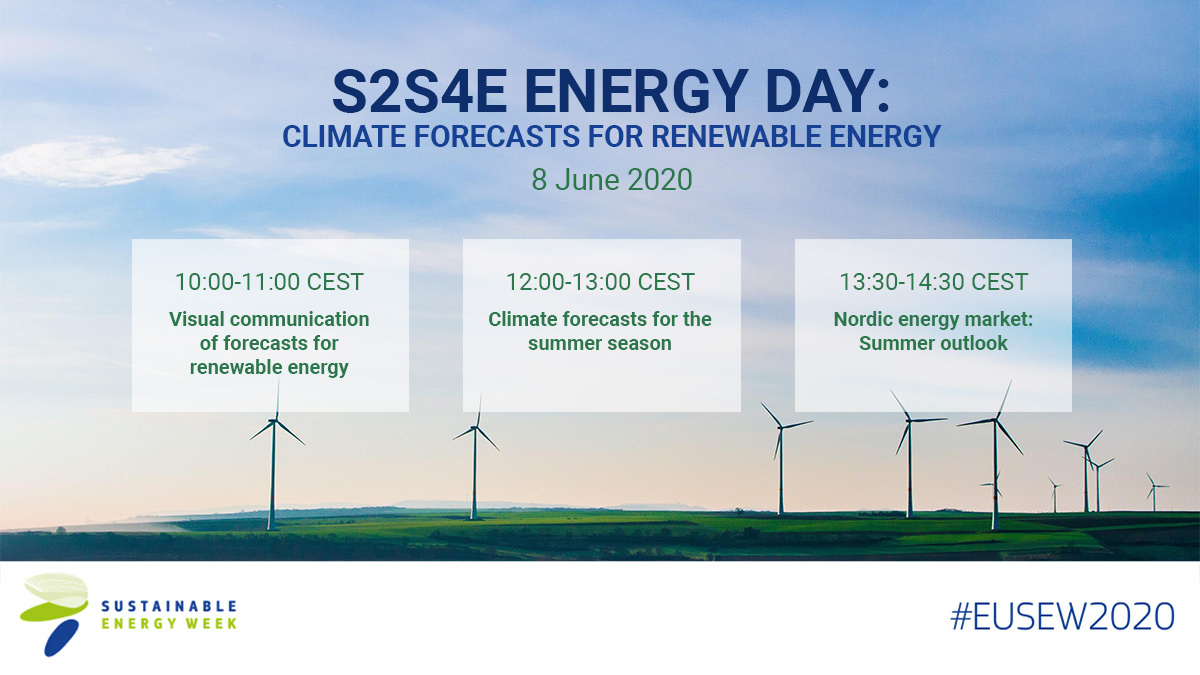 As part of the EU Sustainable Energy Week (EUSEW) 2020, the S2S4E project is inviting you to a series of three webinars discussing climate forecasts for the summer season, visualisation of climate uncertainty and the benefits for the energy sector, taking place on Monday 8 June.
EUSEW is the biggest event dedicated to renewables and efficient energy use in Europe. The 15th edition of EUSEW will be held as a digital event on 22-26 June 2020. Across Europe, digital sustainable energy events called Energy Days, will be organised throughout the months of May and June.
Find below the programme and the registration links for each webinar:
10:00-11:00 (CEST) - Visual communication of forecasts for renewable energy
At this webinar, Isadora Jimenez (Barcelona Supercomputing Center, Spain) will discuss the challenges of visualising climate information and uncertainty, and how this was addressed in the development of the S2S4E project Decision Support Tool. A hands-on session of the DST will follow, during which participants will be able to find out more about how climate forecasts are displayed in the tool.
Register here: https://register.gotowebinar.com/register/5140939646140159760
12:00-13:00 (CEST) - Climate forecasts for the summer season
Hannah Bloomfield (University of Reading, UK) will provide a summer forecast outlook for Europe. The webinar "Climate Forecasts for the Upcoming Summer Season" will focus on forecasts provided in the online S2S4E Decision Support Tool for Europe for the summer 2020 period, covering the next four weeks and three months.
Register here: https://register.gotowebinar.com/register/2309851135841165836
13:30-14:30 (CEST) - Nordic energy market: Summer outlook
In this webinar, researchers from CICERO Center for International Climate Research will present the summer outlook for Northern Europe, and discuss how energy market participants can benefit from using seasonal forecasts. We will also provide an update on recent developments in the Nordic power market from energy news service Montel, while energy analysis firm Refinitiv will present their views on current market prices. The webinar will be moderated by Richard Sverrisson, editor in chief Europe at Montel.
Programme: 
Jana Sillmann, CICERO: How energy market players can benefit from using seasonal forecasts
Nathalie Schaller, CICERO: The outlook for Northern Europe for the next three months
Gabriele Martinelli, Refinitiv: Nordic power prices in light of the current weather outlook
Olav Vilnes and Richard Sverrisson, Montel News: Market talk – Recent developments in the Nordic power market
Register here: https://register.gotowebinar.com/register/8198628706427298576
The webinar series is organised by the EU-funded project S2S4E: Climate Services for Clean Energy, which is working to make forecasts for the weeks and months ahead more reliable. As part of this work, the project has developed an online climate service – the S2S4E Decision Support Tool – which shows the global climate outlook for up to three months ahead, and is available at s2s4e.eu/dst.