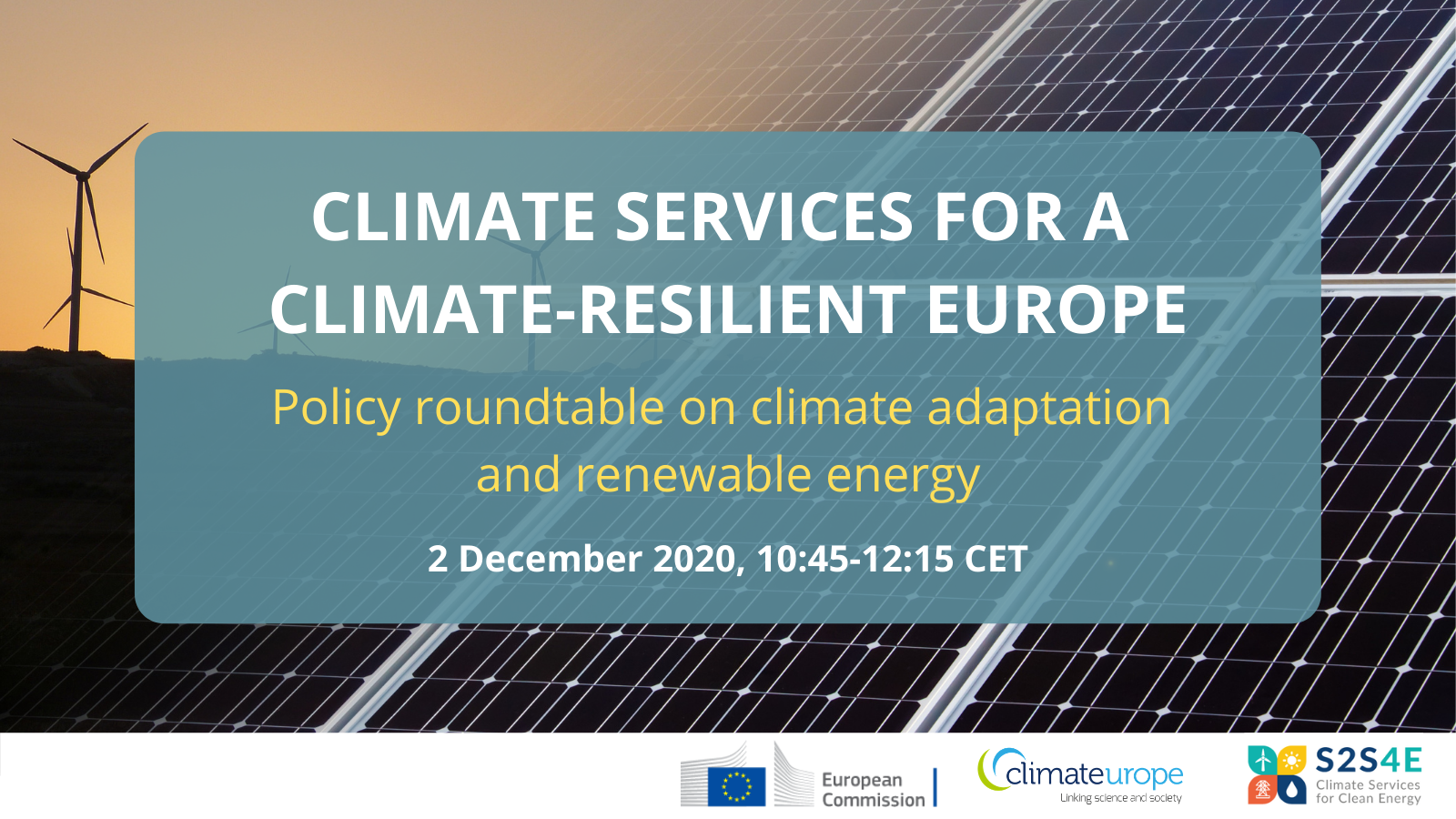 On 2 December 2020, S2S4E is hosting a panel session discussing the project's policy recommendations and lessons learnt. This session will take place as part of the European Commission's event on "Climate services for a climate-resilient Europe".
Climate services can deliver climate science and knowledge to a wide audience, including the general public, businesses and policymakers. They are thus expected to play a crucial role in achieving the ambitions of the European Green Deal for a carbon-neutral economy and a more informed, resilient society. 
S2S4E is coming to an end in December 2020. After 3 years of research and developing a climate service for energy, the project has many insights, results and lessons learned to share. 
On 2 December 2020 at 10:45-12:15 CET, S2S4E will be hosting the online session "Policy roundtable on climate adaptation and renewable energy". This session is part of the full-day event organised by the European Commission, EASME Executive Agency and Climateurope, "Climate services for a climate-resilient Europe: Success stories, lessons learnt and remaining challenges". 
The event aims to showcase the added-value and potential of climate services in making Europe resilient to climate change. It will allow European Horizon 2020 projects to share best practices, lessons learnt and challenges in developing climate services, and at the same time build new partnerships and explore exploitation opportunities. 
S2S4E will participate at this event with a break-out session with discussion based on the recommendations elaborated in the project's white report (see below). The recommendations result from the lessons learnt during the project and address the next steps for climate services aimed at the energy sector. 
The session will be split into three panels (30 minutes each), where experts will engage in a discussion combining different points of view on the recommendations and beyond. 
Recommendations
(1) The Copernicus Climate Change Service should make sub-seasonal forecasts easily accessible to everyone in its Climate Data Store.
(2) Security of supply measures should promote the use of sub-seasonal and seasonal forecasts.
(3) Research into sub-seasonal and seasonal forecast systems should continue to increase their skill.
(4) Promote the development of services consistent across all temporal scales.
(5) Foster the integration of operational sub-seasonal and seasonal forecasts into quantitative models relevant to sectoral impacts and decision-making.
(6) Need for more research to better understand the needs and decision-making processes of potential users of climate services.
A detailed description of these recommendations can be found in the S2S4E White Report.
Agenda 
10:45 - Panel 1: Climate information needs & integration across energy systems' timescales
(Recommendations 1 and 4)
      Speakers:
Chiara Cagnazzo - Sectoral Information System Manager, Copernicus Climate Change Service (C3S)
Roberta Boscolo - Climate & Energy Science Officer, World Meteorological Organization (WMO)
Francisco J. Doblas-Reyes - Director of Earth Sciences Department, Barcelona Supercomputing Center (BSC)
11:15 - Panel 2: Applications of climate forecasts in risk management
(Recommendations 2 and 5)
      Speakers:
Sofia Simoes - Project Coordinator, Clim2power (and ERA4CS)
Matteo de Felice - Scientific Officer, Joint Research Centre, European Commission
Beatriz Sinobas Ocejo - Team Leader of Energy Security and Electricity, European Commission
11:45 - Panel 3: Communicating uncertainty: what is next in climate services for renewable energy
(Recommendations 3 and 6)
      Speakers:
Hannah Bloomfield - Researcher, University of Reading
Jana Sillmann - Research Director, Centre for International Climate and Environmental Research (CICERO)
Michael Christoph - Energy Trading Meteorologist, EnBW Trading
Ignacio Láinez Aracama - Energy Assessment Director, EDP Renewables
Hiba Omrani, Research Engineer, EDF
Each panel will involve a short presentation from one or more speakers to set the discussion topic, panel discussion and a Q&A session. 
Please note that the full list of speakers is to be confirmed.
Registration
For more information about the event and registration, please visit the Climateurope event page. 
The session flyer is also available here.