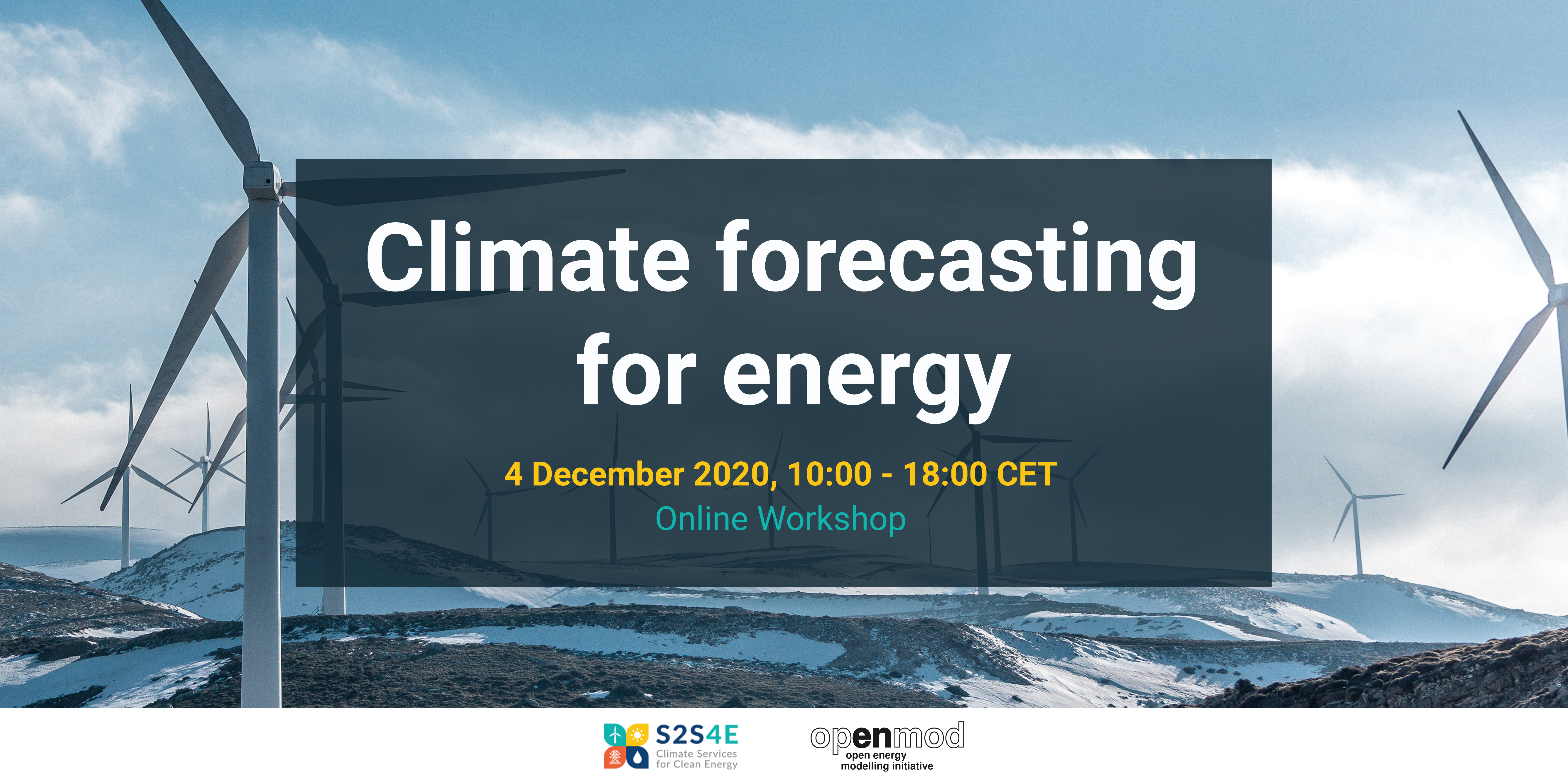 The S2S4E project, together with the Open Energy Modelling initiative is hosting a free 1-day workshop on "Climate forecasting for energy" on Friday 4 December 2020, from 10:00-18:00 (CET). The workshop seeks to support the uptake and use of climate information in the energy sector and energy modelling.
Renewable energy is widely seen as a major step towards achieving the goals of the Paris climate agreement. However, renewable energy production is weather-dependent.
Sub-seasonal to seasonal (S2S) climate forecasts on timescales of weeks to months ahead have the potential to support the management and operation of renewable systems.
This workshop therefore seeks to address the challenges in the use of climate data (particularly S2S forecasts) in energy applications by discussing:
the science basis of climate forecasting,
the use of climate data in energy modelling and decision making, and
state-of-the-art research advances in the use of climate data in energy modelling.
Scientific organising committee: David Brayshaw and Hannah Bloomfield (University of Reading); Robbie Morrison, Ekaterina Kasilova, Alex Kies, Anne Fouilloux and Martin Dorenkamper (OpenMod); Isadora Jimenez, Albert Soret and Andria Nicodemou (Barcelona Supercomputing Center); Erlend Hermansen and Jana Sillmann (CICERO).
Event Agenda and Presentations
The event agenda can be found below. A PDF of the presentation of each speaker can be downloaded by clicking on the talk title.
Morning session
The S2S4E project: Science and results from a major new climate-forecasting programme, specifically tailored for the energy sector
10:00 - Welcome and introduction
10:05 - An overview of climate information and its application to energy
11:10 - Panel discussion: Supporting the use of climate forecasts in energy 
            Chair: Dr Jana Sillmann and Erlend Hermansen, CICERO
11:30 - Break & opening of the poster session (spatial.chat platform)
12:00 - Research advances and emerging opportunities
13:00 - Lunch Break & Poster Session
Afternoon session
Joint session - S2S4E/OpenMod: Climate forecasting for energy-modelling - science, tools, models, issues and data
14:00 - Welcome and introduction
14:10 - Practical use of climate data for energy
15:00 - Break
15:20 - Research presentations
16:20 - Panel discussion
Roberta Boscolo, Climate and Energy Science Officer, WMO
Alberto Troccoli, Founder and Managing Director, WEMC
Sofia Simões, Head of Resource Economics Unit, National Laboratory of Energy and Geology
Ralph Evins, Director of Energy in Cities lab, University of Victoria
16:50 - Wrap up
17:00 - After-workshop virtual drinks & Poster Session
Please also see the event Agenda.
Registration information
The event is free, however prior registration is required. Please REGISTER here.
Throughout the day and at the lunch break, an interactive poster session will be available. All participants are invited to share their research on the use of climate information in energy-system applications and models.
To participate with a poster, please indicate this in the event registration form. Submissions should be sent to s2s4e@bsc.es by 27th November.
Afternoon session talks
If you wish to present your work at the afternoon session, please indicate this in the OpenMod forum. The call for presentations will close at 17:00 CET on Friday 27th November.
After workshop virtual drinks
After the presentations close, participants are invited to use this session to network, continue informal discussion, contact presenters, and view posters for an additional hour, until 18:00 CET. The platform used for networking and posters will be spatial.chat.